He had been doing maintenance work while the ferris wheel was closed.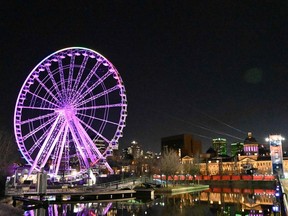 Article content
The Commission des normes de l'équité de la santé et de la sécurité du travail (CNESST) is investigating the circumstances of a workplace accident early Saturday afternoon at the ferris wheel in Montreal's Old Port district that led to the death of a 22-year-old man.
Article content
A spokesperson for a public relations firm hired by La Grande roue de Montréal, as the ferris wheel is known, confirmed the man's death on Sunday to Presse Canadienne.
CNESST spokesperson Nicolas Bégin said Sunday afternoon that an investigation has begun into the circumstances of the event. Two inspectors were at the site Saturday and again Sunday, he said.
The man was doing snow removal work, said Bégin, but details surrounding the circumstances of his death are not yet available. "We are trying to understand what happened," he said. "It is too early to know."
A report will be made public once it is complete, he said, but that could take several months.
The goal is not only to know what happened, but to prevent the same thing from happening again, Bégin said.
Article content
Montreal police spokesperson Jean-Pierre Brabant said police received a call about an employee who was injured at the site of La Grande roue, which was closed. When they arrived on the scene, they found the man had been critically injured. He was taken to a hospital.
Urgences-santé reported that paramedics arrived on the scene at about 12:35 p.m. Jérémie Lachance of the public emergency medical service said he was unable to specify the nature of the accident or precisely where it occurred.
In a statement late Saturday afternoon, La Grande roue said it cannot comment on the situation while an investigation is underway and that the ferris wheel will remain closed until further notice.
"Our thoughts are with our employee and those near to him," the statement said.